For apartment buildings we offer an affordable and dimensionally unique ventilation unit with heat recovery, suitable for the limited space above the toilet flush. For commercial buildings, compact or modular heat recovery ventilation units up to 14,500 m3/h.
Duovent heat recovery units and Digireg®
control system
The company ELEKTRODESIGN Fans, Ltd. is not only a successful supplier in the range of fans and air conditioning accessories, but also for the last ten years has been a manufacturer of heat recovery units for commercial and residential use, including its own control systems. Units can be supplied compact or, in the event of difficult access to the plant room, in exploded form.
Benefits of Duovent® heat recovery units
- compact design of the assemblies incl. The compact compact design of the integrated control system - time and financial savings during installation
- choice of type design - underfloor, floor, standing - choice for indoor or outdoor design
- in all designs always preparation for two positions of heat exchangers - certainty of simple retrofitting on site
- stable frame construction made of aluminium profiles
- panel cladding filled with acoustic and thermal insulation made of non-flammable material
- own production plant in the Czech Republic incl. service department operating in the Czech Republic and SK - short delivery times, all spare parts in stock in the Czech Republic, immediate service call directly to the construction site in case of breakdown
Possibility of separate assembly of the MaR switchboard and the possibility to choose the rotation of the necks and the design software VentiCAD®.
Compact ventilation units with heat recovery for commercial applications
DUOVENT® Compact DV
- vertical and horizontal design
- for indoor and outdoor use
- counter-current aluminium heat recovery unit
- total of 10 size ranges (500-7,800 m3/h)
DUOVENT® Compact DV TOP
- standing design
- for indoor use
- countercurrent aluminium recuperator
- total of 8 size ranges (500-7 800 m3/h )
DUOVENT® Compact RV
- vertical design
- for indoor and outdoor use
- rotary regenerator
- total of 6 size ranges (800-7,800 m3/h)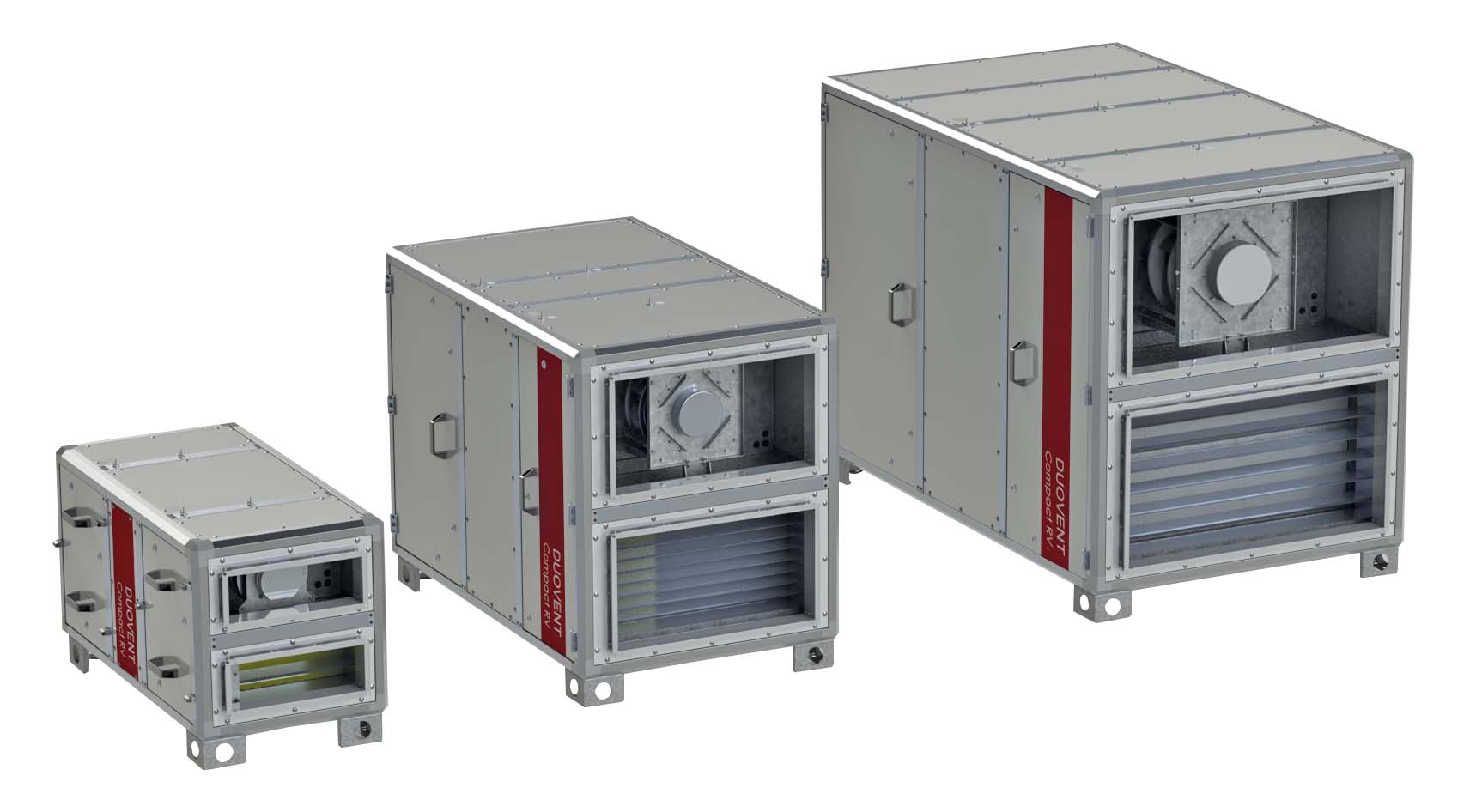 Modular heat recovery ventilation units for commercial applications
The MODULAR range of units is a complementary range that extends the current DUOVENT® COMPACT range of units, pushing the range of usable air outputs up to a nominal airflow of 14,500 m3/h. The wide range of accessories, including the ROOFPACK accessories, which facilitate the use of the units in outdoor environments, is not left behind. The Digireg® system is equipped with a Modbus communication interface as standard for connection to higher-level building control systems.
DUOVENT® Modular DV
- vertical design
- for indoor and outdoor use
- counter-current aluminium recuperator
- total of 4 size ranges (8,500-14,500 m3/h)
Duovent® Modular RV
- vertical design
- for indoor and outdoor use
- rotary regenerator
- total of 4 size ranges (8,500-14,500 m3/h)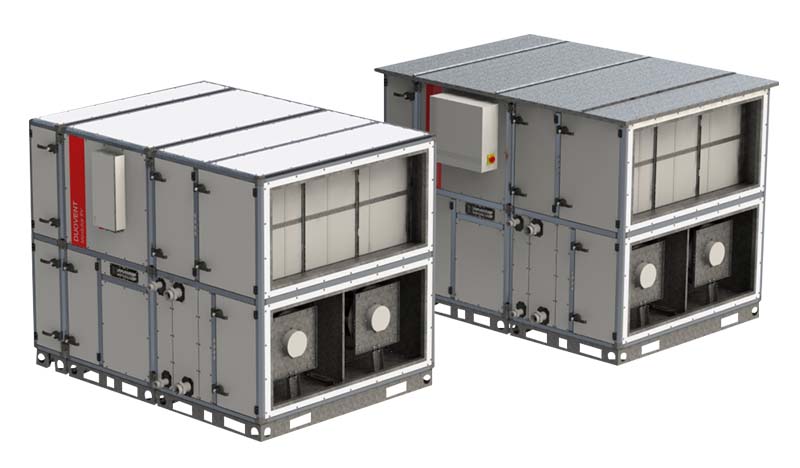 Custom Control System - Digireg®
- Fully integrated in Duovent heat recovery units
- IP65 indoor and outdoor switchboard
- Can be connected to a higher-level system
- Touchscreen controller with visualisation of current status